Farming – ID Style
By Harold Greyeyes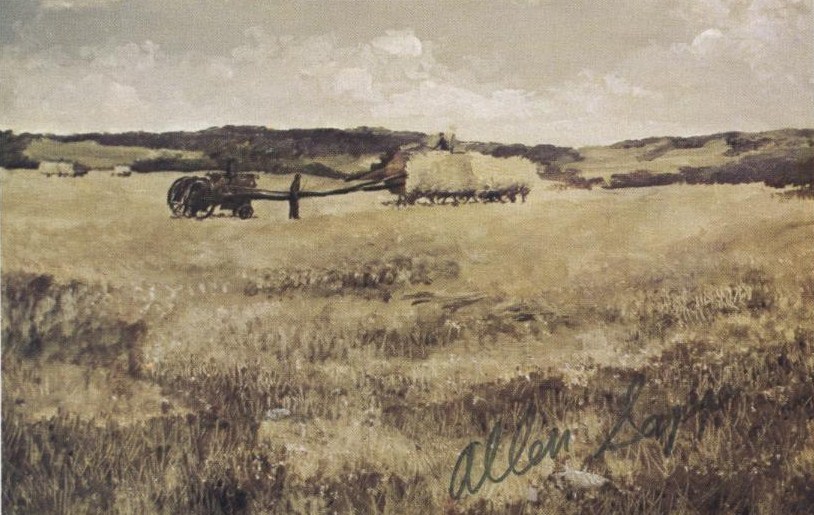 Courtesy Allan Sapp Gallery
My grandfather, Jim Greyeyes was a big farmer. He was a very good farmer who looked after his equipment and livestock. He took a great deal of pride in his work. In 1927, he was the first man in his area to buy a threshing machine. He used to take this outfit and do the threshing for his neighbors, either red or white.
In 1944 he had over 300 acres in crop and in those days that was a lot of crop. It was a bumper crop and on one 100 acre field, he harvested 4400 bushels of wheat without any chemical fertilizers or sprays – 44 bushels per acre. And for every load of wheat he took to the elevator he had to have a permit. During threshing time, the Indian Agent would come to the field where they were working, take out his permit book and say, "Well Jim, my good man, Can I write out any permits for you today?" He was doing my grandfather a big favor.
Fort Battleford Historic Park Collection. Instructor's Residence,
Red Pheasant Reserve #108. 1900-1939.
Saskatchewan Archives Board S-B-10294
When my grandfather took his grain to the elevator he didn't get a grain ticket like the white farmers did. His money was sent to the Department of Indian Affairs. When he wanted some money, he had to go ask for it, explain why he wanted it and then wait for a government cheque. He was never quite sure if all his money came to him. It was the same story when it came to cattle. He was not a master in his own house. For some weird reason unknown to him, he could never sell his steers as one or even two year olds. The agent only gave him a permit to sell three year olds. By this time, they were huge animals, big boned which never brought the top dollar and cost more to feed than the diference in size was worth – but that was department policy. (As told to Jack Funk)